Classes
Services
Keynote & Training Topics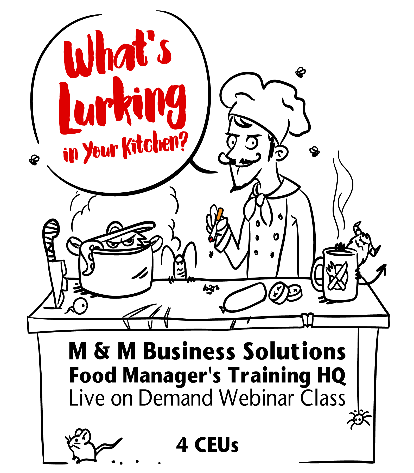 Minnesota Refresher
Live Webcast = 4 CEUs

Check your certificate to ensure it has not expired.
In the event your certificate is expired, do not buy this course!
Instead buy the initial because you must start over according to MN guidelines.
Individuals with CFPM credentials expiring after August 30th, 2021, must:
Complete 4 hours of continuing education in food safety
on or before
the expiration of their credential.
Within six (6) months of expiration of their credential
:
a. Submit a completed Food Manager Certification Renewal Application
(https://www.health.state.mn.us/communities/environment/food/docs
/cfpm/cfmrenappnew.pdf),
b. Pay Application fee ($35) to state, and
c. Proof of continuing education to the Minnesota Department of Health (MDH).
Is there a FAT TOM cat in your kitchen?
Prepare, Cook, Cook & Reheat Food Safely.
Purchase, Receive and Store Food Properly
What's Lurking in Your Kitchen?
Current Case Studies in the working kitchen.
Requirements:
PC User:
Webcam and Mic, laptop or computer.
Google Chrome or Edge
Know how to use your system before class
Mobile User:
Need to download the app from the app store before class. (Anymeeting.com/Intermedia)
Everyone:
Have internet
Arrive 15 minutes early to class to work out any technical issues
I must be able to see and hear you or you will not be allowed into class, no exceptions.
Select JOIN meeting ONLINE from invite. Hold on to the invite because it has your link for class.
There are no refunds, exchanges or reschedules.
All sales are final.
Certificate is emailed to you after class.
You will need high speed Internet
Web Cam is required on lap top or computer. Student must be seen by the instructor.
Do it from anywhere
Requires registering 24 hours in advance
Requirements: Click Here
Required every 3 years
Check your certificate
"The Online Class was not a typical boring class. Marshie's fun, enthusiastic way of teaching kept me attentive and focused.

"I would recommend this food manager's class to anyone seeking a certification in food safety."

Kyler Goodman, Culver's