Classes
Services
Keynote & Training Topics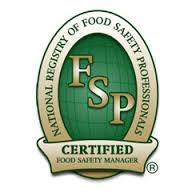 ONLINE CLASS, PRACTICE TESTS, EXAM VOUCHER (ICFSM) and PROCTOR FEE

National Registry of Food Safety Professionals

INTERNATIONALLY ACCEPTED!

(In the Americas)

ANSI Approved and Accepted in ALL 50 States!

Everything is included:
3 Practice Tests
Online Recorded Class 5.5 hours. You get credit for 8 hours.
Start and Stop it 24/7 up to 60 days.
Do it from your mobile devices.
Recorded Class is Chef Marshie teaching; not boring slides
Online Exam Voucher (Good for all of North America)
Includes Proctor Fee!
Take Online Test at Pearson VUE testing location. No, Additional Test Center Fees!
Video library
I, Chef Marshie, look forward to helping you take your class from to-do to done.
AVAILABLE:
Corporate volume discounts
The International Certified Food Safety Manager (ICFSM) is jointly accredited under both the CFP standards and the ISO 17024 standard.
ANSI approved and accepted throughout the United States and Canada meeting regulatory requirements.
To renew your certification, you will need to take a Food Safety Manager exam before the expiration of your current certification. In some areas, continuing training hours are required. Check with your local health department for training requirements. We will issue you training documentation upon request.
The only method for maintaining certification is by retaking the examinations with a proctor in the testing center. Take a Computer Based Examination at one of over 2,500 Pearson VUE computer examination sites in the United States and Canada.
Look here for one near you
.
REGISTER FOR EXAM

Schedule your exam by going

here

and setting up an account or you can call 1-888-687-1571 Pearson Vue main registration line. You can't register at the actual location.
Use your name as it appears on your valid government-issued ID. Exam series code is ICFSM. You will use exam voucher as payment at time of scheduling your exam which may be found on your receipt.
International Certified Food Safety Manager (ICFSM)
Designed for: Restaurant and commercial food service managers, supervisors, chefs, cooks, owners, kitchen manager, dining room managers;
This is a Food Safety Manager exam. This exam is accredited by ANSI under both CFP and ISO/IEC 17024 standards. Taking this exam will help you measure how well you understand food safety.
To become an International Certified Food Safety Manager, you must pass the ICFSM exam.
The exam consists of 80 questions and 5 pilot questions that must be completed in 120 minutes.
Questions are multiple choices.
You must achieve a minimum weighted score of 75 to pass.
Class covers critical principles including: personal hygiene, cross contamination, time and temperature, receiving and storage, food safety management systems, training hourly employees, and more.
Your course data is available to the person registered for the course.
Users have 60 days from the date of purchase to launch the course and complete it, at which time the course will be deactivated.
With the 24/7 access of online training products, you are always in control of how, where and when you study.
All sales are final and non refundable.
Not responsible for lost exam vouchers
"Great Instructor, she is very knowledgeable and thorough. I would enjoy any classes she instructs."
G.M. Nichole Anderson, TMI Hospitality Franchisee of Fairfield Inn by Marriott.Click to edit this text...
More reviews