Classes
Services
Keynote & Training Topics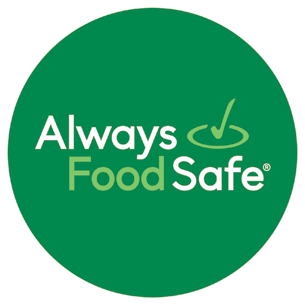 ANSI APPROVED IN 2020
Includes:

ONLINE CLASS, EXAM VOUCHER and REMOTE PROCTOR
with 2 attempts to get certified

Schedule Your Food Protection Manager Exam At A Time That Works For You.
Take It In The Office or At Home.
Proctored Remotely Exam online with Proctor U to get your food manager certification

80 Question ANSI Accredited Exam

Pass Rate is 70%

Accepted in all 50 States

Certificate validity 5 years


Remotely Proctored Exam - 2 exam attempts available (Only Company to Offer this!)

80 Question ANSI Accredited Exam that can be taken in your home, or office.

You will instantly receive your score, and whether you passed or failed. Retakes can be scheduled instantly if you were to fail at your first attempt.

If you fail your first exam attempt you will get a second attempt free of charge.

ANSI Accredited Certificate - Valid for 5 Years

Once you pass your exam you will receive a Food Manager Certificate which will prove to your manager or local health inspector that you have the mandatory certification required.

This Manager Certification is Nationally Accredited at the Same Level as ServSafe and NRFSP
ANSI Approved and Accepted in ALL 50 States!
Class covers critical principles including: personal hygiene, cross contamination, time and temperature, receiving and storage, food safety management systems, training hourly employees, and more.
3 Practice Exams
Before the final exam you will have access to practice exams. This will allow you to test your knowledge.
The practice exams will prepare you for the final exam.
The exam will highlight areas of improvement, so you can go back to the training if needed and look over the content again.
Equipment Requirements

Review the following requirements for your camera, operating system, upload/download speeds, RAM, ports, microphones and browsers. Also included is a list of technology not currently supported by ProctorU.

TYPE MINIMUM RECOMMENDED

Internet Connection Wifi Connection Wired Connection
PC Users Windows 8 (Windows 10 S mode is not supported) Windows 10 (10 S mode is not supported)
Mac Users macOS 10.13 (Oldest Still Maintained Version) MacOS 10.15
CPU more than 2 core CPU less than 85% CPU Usage more than 4 core CPU less than 50% CPU Usage
Webcam 640x480 resolution 1280x720 resolution
Internet Download
Speed 1 Mbps 12 Mbps
Internet Upload
Speed 1 Mbps 3 Mbps
RAM 4 GB less than 90% Ram Usage 16 GB less than 70% Usage

TYPE MINIMUM RECOMMENDED

Connectivity Ports 1935, 843, 80, 443, 61613, UDP/TCP 1935, 843, 80, 443, 61613, UDP/TCP
Screen Resolution 1366 x 768 1920 x 1080 and above
Chromebook Users not Supported for Live Proctoring
Chrome device is running the latest version of Chrome OS. Chrome device is running the latest version of Chrome OS.
Additional Requirements:

· A functioning microphone (some web cameras have them built-in)
· A compatible browser: Google Chrome (preferred) or Mozilla Firefox

NOT SUPPORTED:
· Google Chromebooks & Mac Books

Public Library and other public computers (it won't allow the extenstion to be downloaded)

· Tablets (Nexus, iPad, Tab, Note, etc.)

· Linux operating systems

· Windows 10 in S mode or Surface RT

· No running inside a virtual machine. You will be asked to reconnect using your host operating system to take your exam
Your course data is available to the person registered for the course.
Users have 60 days from the date of purchase to launch the course and complete it, at which time the course will be deactivated.
With the 24/7 access of online training products, you are always in control of how, where and when you study.
Equipment requirements: High Speed Interenet, played on the following: Android, I-Phone, Laptop, Tablet, Desktop
We offer Online Exams and Proctoring in Central Texas.
Online tests allow you immediate test results
Copy of your certificate within 72 hours of taking your exam.
All sales are final and non refundable.
Not responsible for lost exam vouchers
Why was my card declined?
It doesn't happen often. When it does happen here are some common reasons why.
Typed in name incorrectly
Not using the correct zip code; address
Not using the correct cvv on the back of the card
Response code '9500' means that PayPal, merchant services, declined it due to your own fraud protection measures. You will have to call your bank to say using M&M Biz Solutions is a legit purchase.
Food Manager Class and Certification

Fully Accredited Certification in 2020
Always Food Safe's Manager Certification is set against the FDA Food Code 2017, so all learnings are up to date with the most recent regulations*


*Does not address specific state or local county regulations




Is Always Food Safe's certification the same as other food safety manager exams?
Yes!

The Always Food Safe Company, Food Protection Manager exam is equivalent to the Food Protection Manager certification programs from the National Registry of Food Safety Professionals (NRFSP), Learn2Serve (360training.com), ServSafe (National Restaurant Association), and Prometric.

Our exam is ANSI accredited, meaning that it meets the required national standards for Food Protection Manager Certification Programs.
ANSI approved and accepted throughout the United States and meets regulatory requirements.
The exam consists of 80 questions 2 hours to take the exam.
Questions are multiple choices.
You must achieve a minimum weighted score of 70 to pass.
To renew your certification, you will need to take a Always Food Safe exam before the expiration of your current certification. In some areas, continuing training hours are required. Check with your local health department for training requirements.
"Having taken the live ServSafe class from M&M Business Solutions, I can honestly say Marshie was a pleasure to have as an instructor. Not only is she well informed she is a fun teacher! I just know I was successful in passing because of her instruction!"
Muriel Wright, Patient Service Manager for Scott and White Hospital
More reviews