Food Safety Classes
Services
Keynote & Training Topics
Blog
Geno Bahena Chef de Cuisine at Blue Dalia Restaurant and Tequila Bar

13 Aug 2019 10:00:00 Marshie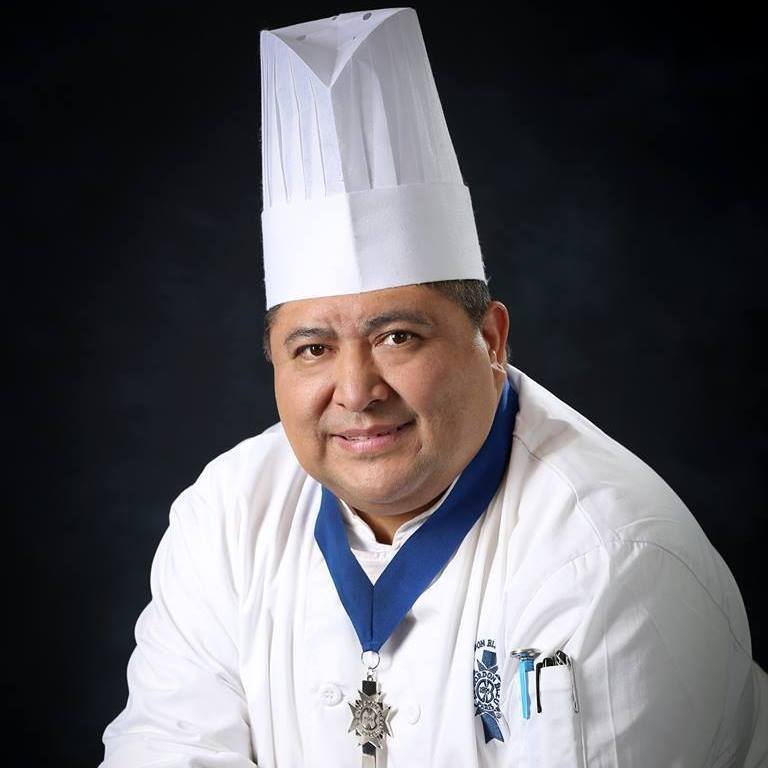 My name is Marshie Morgan.
Let's get you introduced to everyone, shall we?
Marshie: Name, title and any letters behind your name.
Chef: Generoso (Geno) Bahena
Marshie: Where are you from?
Chef: Tepatulco, Guerrero. Mexico, grew up there until 15 years old then, I came to United States of America.
Marshie: Where do you work or do you own your own business? Name of business.
Chef: Well, I worked for celebrity Chefs, such as Rick Bayless with Frontera Grill and Topolobampo Restaurant in Chicago. I used to own my own restaurants: Ixcapuzalco and Chilpancingo, in Chicago. My family has Sol the Mexico, then I did restaurant startups for other people, I have opened a total of 23 upscale refined Mexican restaurants in my career as a professional E. Chef. Currently I work in Natick, Massachusetts. For the Wegman's family in a restaurant called: Blue Dalia Restaurant and Tequila Bar.
Marshie: How long have you been a dedicated chef?
Chef: Professionally since 1987 (for 32 Years)
Marshie: Who is your favorite chef, and what is it about their work that really strikes you?
Chef: at a very young age of 10 years old, my grandma taught me the art of making divine Mole Sauces. I was so adept in helping her and learned to source fresh ingredients and this was how my love and my passion for cooking and for making people happy through food began.
I really do not have a favorite Chef, I'm my own Inspiration. Cooking is my passion, my love, and my domain.
Marshie: How do you deal with the day in day out stress?
Chef: Sleep, eat right, exercise: all three help boost endorphins, and regulate dopamine and quite frankly keep me happier, I establish boundaries, keep notes to myself and check them off as I finish my tasks, prioritized, maintain all areas of work clean, taking breaks from time to time to focus, come to work early, I reward myself, and be thankful to my team for a job well done.
Marshie: How do you balance your work life with your personal life?
Chef: Working for Wegmans is one of the business principles and values that allows me to manage, balancing work and spend quality time with family.
Marshie: What is the biggest accomplishment up to this point in your career?
Chef: I won the coveted James Beard award as Chef of the Year award, when I was under the wing of Rick Bayless, I cater 1000 people at the State Capital in DC, I served a dinner in the white house under President George W. Bush admin, served President of Mexico, Vicente Fox and for a chef that is the culmination.
Marshie: What are three nuggets of wisdom you would share to new aspiring chefs?
Chef: 1. Never be afraid to take new challenges, do not let your emotions of fear affect your cooking. This is something I learned from my grandmother that taught me the state of mind will affect the outcome of the dish and contribute to your cooking skills.
2. Create your own identity, your own finesse.
3. Always do your best, stick to the fundamentals of cooking, be humble and keep your feet on the ground.
Marshie: What is your favorite thing to eat at home?
Chef: Simple food, with great bold flavors that dense across my mouth, I do not have favorite foods. I love everything, but if I have to choose "Mexican food".
Marshie: If you could change one thing about the industry, what would it be and why?
Chef: To start teaching good principles, in the schools to prevent the inevitable between employees
Marshie: What is your number one safety tip?
Chef: Never get distracted, always keep focus, clean as you go, Mise en place, learn your knife skills and practice safety, Taste as you go do not double deep or with a disposable spoon, cook your meat by temperature not time etc.
Marshie: Imagine a future where you no longer cook. What would you do?
Chef: Everyone has to eat. I would die of sadness, I not sure, I will probably be a consultant, teach young aspiring Chefs the Art of cooking, or I will work in the medical field.
Marshie: Do you have a Facebook page, social media outlet or website readers can visit for updates, events and special offers?
Marshie: What exciting news do you want to share with the readers about you or your establishment? (New location, menu, specials, events, etc…)
Chef: In addition to being a Chef de Cuisine for Blue Dalia Restaurant and Tequila Bar, where I serve contemporary upscale Mexican food from the 32 States of Mexico seasonal and regional, changing the Menu seasonally, I'm a celebrity Chef, influencer, winner of top Mexican Chefs, Travel the 32 States of my native Mexico, teach cooking classes, consultant for Mexican food, you can look me up in the internet by typing Chef Geno Bahena.